Line 83:
Line 83:
 

<br>

 

<br>

 

{{Ship_Skills

 

{{Ship_Skills

−

|pri = {{Skills|Gallente Cruiser|II}}

+

|pri = {{Skills|Gallente Cruiser|}}

−

|pri2 = {{Skills|Gallente Frigate|IV}}

+

|pri2 = {{Skills|Gallente |}}

 
+

|pri3 = {{Skills|Gallente Frigate|III}}

 

}}

 

}}

 

[[Category:Cruisers]]

 

[[Category:Cruisers]]
---
Revision as of 13:55, 20 March 2014
Other Images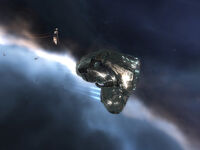 Vexor Cruiser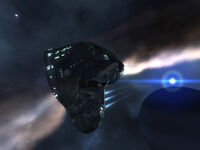 Vexor Cruiser
The Vexor is a strong combat ship that is also geared to operate in a variety of other roles. The Vexor is especially useful for surveying in potentially hostile sectors as it can stay on duty for a very long time before having to return to base. Furthermore, it is well capable of defending itself against even concentrated attacks.

Special Abilities
Gallente Cruiser Skill Bonus:
5% bonus to Medium Hybrid Turret damage per level and 10% bonus to drone hitpoints, damage and mining yield per skill level

Shields
Shield Capacity
1,173 HP
EM Resist
0 %
Explosive Resist
60 %
Kinetic Resist
40 %
Thermal Resist
20 %
Recharge Rate
1250000 ms
Armor
Armor Capacity
1,485 HP
EM Resist
50 %
Explosive Resist
10 %
Kinetic Resist
35 %
Thermal Resist
35 %
Structure
Hull Capacity
1,485 HP
EM Resist
0 %
Explosive Resist
0 %
Kinetic Resist
0 %
Thermal Resist
0 %
Cargo Capacity
480 m3
Mass
11,250,000.00 kg
Volume
115,000.00 m3
Capacitor
Capacitor Capacity
1,250 Energy
Capacitor Recharge
446250 ms
Drones
Drone Bay Capacity
100 m3
Drone Bandwidth
75 Mbit/sec
Navigation
Max Velocity
170 m/sec
Targeting
Magnetometric Sensor Strength
14 points
Max Locked Targets
5
Max Targeting Range
57.5 km
Scan Resolution
150 mm
Signature Radius
240 m
Community content is available under
CC-BY-SA
unless otherwise noted.