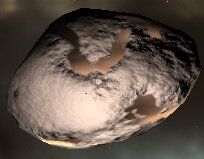 Omber is a common ore that is still an excellent ore for novice miners as it has a sizable portion of Isogen, as well as some Tritanium and Pyerite. A few trips of mining this and a novice is quick to rise in status. 500 ore units are needed for refining. Omber has a volume of 0.6m3.
There are two variants:
Silvery Omber
Silvery Omber was first discovered some fifty years ago in an asteroid belt close to a large moon. The luminescence from the moon made this uncommon cousin of normal Omber seem silvery in appearance, hence the name.
Golden Omber
Golden Omber spurred one of the largest gold rushes in the early days of space faring, when isogen was the king of minerals. The 10% extra yield it offers over common Omber was all it took to make it the most sought after ore for a few years.
Mining

Using Omber mining crystals requires the following skills:

Omber Processing III

Refining V

Industry I

Science III

Mining I

Using Tech II Omber mining crystals requires the following additional skills:
Omber Processing IV

Refining
The below amounts are on a per-unit basis.
Omber

| | | |
| --- | --- | --- |
| | Tritanium | 307 |
| | Pyerite | 123 |
| | Isogen | 307 |

Silvery Omber

| | | |
| --- | --- | --- |
| | Tritanium | 322 |
| | Pyerite | 129 |
| | Isogen | 322 |

Golden Omber

| | | |
| --- | --- | --- |
| | Tritanium | 338 |
| | Pyerite | 135 |
| | Isogen | 338 |
Links