Other Images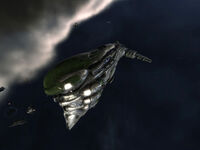 Eos Command Ship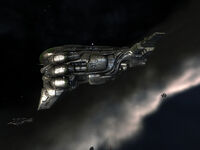 Eos Command Ship
Command Ships are engineered specifically to wreak havoc on a battlefield of many. Sporting advanced command module interfaces, these vessels are more than capable of turning the tide in large engagements. Field command ships are geared more towards out-and-out combat than their fleet command counterparts, though both ships can hold their own in battle.

As the largest drone developer and manufacturer in space, CreoDron has a vested interest in drone carriers. While sacrificing relatively little in the way of defensive capability, the Eos can chew its way through surprisingly strong opponents - provided, of course, that the pilot uses top-of-the-line CreoDron drones.
Special Abilities
Edit
Battlecruiser Skill Bonus: 5% bonus to Medium Hybrid Turret damage and 7.5% bonus to Armor Repairer effectiveness per level
Command Ships Skill Bonus: +15 m3 extra Drone Bay space and 3% bonus to effectiveness of Information Warfare Links per level
Role Bonus: 99% reduction in Warfare Link module CPU need. Can use 3 Warfare Link modules simultaneously.
Shields
Shield Capacity
3,844 HP
EM Resist
0 %
Explosive Resist
60 %
Kinetic Resist
85 %
Thermal Resist
60 %
Recharge Rate
1400000 ms
Armor
Armor Capacity
4,324 HP
EM Resist
60 %
Explosive Resist
10 %
Kinetic Resist
83.75 %
Thermal Resist
67.5 %
Structure
Hull Capacity
4,805 HP
EM Resist
0 %
Explosive Resist
0 %
Kinetic Resist
0 %
Thermal Resist
0 %
Cargo Capacity
400 m3
Mass
13,250,000.00 kg
Volume
270,000.00 m3
Capacitor
Capacitor Capacity
2,812.5 Energy
Capacitor Recharge
625000 ms
Drones
Drone Bay Capacity
150 m3
Drone Bandwidth
75 Mbit/sec
Navigation
Max Velocity
145 m/sec
Targeting
Magnetometric Sensor Strength
18 points
Max Locked Targets
7
Max Targeting Range
55 km
Scan Resolution
200 mm
Signature Radius
300 m