Other Images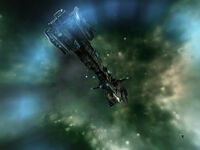 Claymore Command Ship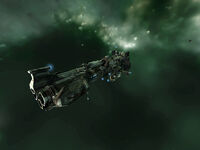 Claymore Command Ship
Command Ships are engineered specifically to wreak havoc on a battlefield of many. Sporting advanced command module interfaces, these vessels are more than capable of turning the tide in large engagements. Fleet command ships represent the ultimate in warfare link efficiency; while not packing the punch of their field command counterparts, the boosts they give their comrades in combat make them indispensable assets to any well-rounded fleet.

Core Complexion's ships are unusual in that they favor electronics and defense over the "lots of guns" approach traditionally favored by the Minmatar.
Battlecruiser Skill Bonus: 5% bonus to Medium Projectile Turret rate of fire and 7.5% bonus to Shield Booster effectiveness per level
Command Ships Skill Bonus: 7.5% bonus to Medium Projectile Turret tracking speed and 3% bonus to effectiveness of Skirmish Warfare Links per level
Role Bonus: 99% reduction in Warfare Link module CPU need. Can use 3 Warfare Link modules simultaneously.
Shields
Shield Capacity
4,324 HP
EM Resist
75 %
Explosive Resist
60 %
Kinetic Resist
40 %
Thermal Resist
60 %
Recharge Rate
1400000 ms
Armor
Armor Capacity
3,844 HP
EM Resist
92.5 %
Explosive Resist
10 %
Kinetic Resist
25 %
Thermal Resist
67.5 %
Structure
Hull Capacity
3,363 HP
EM Resist
0 %
Explosive Resist
0 %
Kinetic Resist
0 %
Thermal Resist
0 %
Cargo Capacity
475 m3
Mass
12,500,000.00 kg
Volume
216,000.00 m3
Capacitor
Capacitor Capacity
2,625 Energy
Capacitor Recharge
583333 ms
Drones
Drone Bay Capacity
40 m3
Drone Bandwidth
40 Mbit/sec
Navigation
Max Velocity
165 m/sec
Targeting
LADAR Sensor Strength
16 points
Max Locked Targets
6
Max Targeting Range
45 km
Scan Resolution
220 mm
Signature Radius
240 m
Community content is available under
CC-BY-SA
unless otherwise noted.